You know sometimes you get asked to do a piece and it's like a dream come true? Well, I just finished one for a fabulous lady who wanted something similar to the paper forest piece. It's based on an old photograph of her grandma sitting on a paper moon. Now, the funny thing is, I was heading in that direction with the paper stuff anyway - moon, clouds, stars etc - it's an obvious step given the classic films and theatre sets which include them. So when she asked I was completely overjoyed.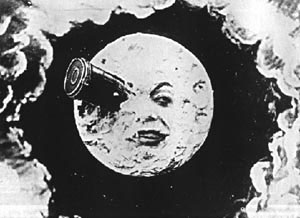 A still from the classic Voyage dans la lune. And of course there's the Smashing Pumpkins
homage
to it. I messed around with a few compositions and then made the final sketch:
The idea was to have a wooden backdrop, a circular surround of decotrative wood and 2 layers of cut paper. The moon and grandma hang on a seperate layer. There are also some small accessories like the star and the sun (Who is sleeping in the final one!). I don't have any in-progress photos i'm afraid. I was off work at the time and went into a frenzy of cutting and painting, and emerged without any photos at all. So it's straight to the finished piece:
It was a dream to make it, and now I just have to make sure I wrap it up right and get it there intact!